Portable Bar – Ornate White
Hosting a party? Need a bar? Our range of portable bars are the perfect addition to your event. They look great and best of all are easily installed and moved.  The bar includes under counter shelves for bottles and glassware.  Made with timber, the ornate white bar will be the centre piece of your wedding or event. This hand made and unique one of a kind design will get the neighbours talking!!.
Width = 160cm, Height = 115cm, Depth = 65cm.
This item is only available by delivery.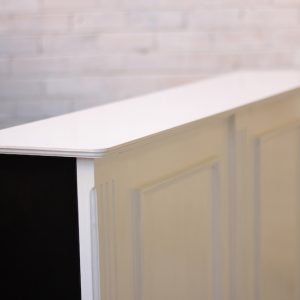 Price: $180
Add to enquiry
View cart
Orders are not final until credit card details have been provided to us
Standard delivery to Bayside Melbourne. Conditions apply.